Six times removed
–
World events would be captured by my Grandmother, ranging from royal weddings to natural disasters. Using a Canon 35mm film camera from the view point of her living room arm chair, she set about obsessively bookmarking these events. A couple of times a year Muriel would annotate these images and send them in the post to me, with a brief explanation and major headlines.
"6 times removed" was an attempt to examine the broadcast of televised news, its authorship and spread.
The installation was made up of a 2×1.5m laser print of "Mt Etna Volcano Eruption", mounted to the wall above head height. This image was filmed live and the resulting capture was projected instantly below the original, in the same 2×1.5m ratio. Two images were visually present, the second being removed by one step from the original. viewing the image would ultimately put the viewer into the feedback.
Mt Etna Volcano Eruption – 4th September 1999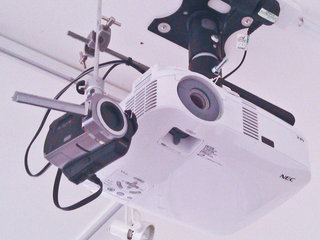 Sony
CX405
camcorder,
NEC M271X
data projector